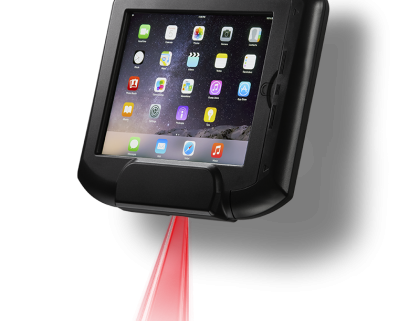 Designed for iPad Air and iPad Air 2, Infinite Peripherals Infinea Omni is the ultimate self-service solution that streamlines the consumer experience. It connects through Apple's Lightning Connector.
The Infinea Omni comes with a 2D high-speed Imager, which reads the most widely used 1D and 2D barcodes (including QR codes) on the market. It has multiple direct-to-consumer applications, such as price and stock checking, self-checkout, transport check-in and boarding pass processing. In retail, Infinea Omni enables customers to look at stock and prices in-store allowing them to self-checkout using shopping Apps installed on the iOS device. In transportation, users can self-check-in, change or confirm reservations and print boarding passes. The mounting bracket to fix the scanner to the wall is sold separately.
The scanner is compatible with over 100 fully functioning iOS Apps that can be found on the Apple Store, and a SDK is available to allow the development and integration of new and existing Apps.
Display 100 Products per page