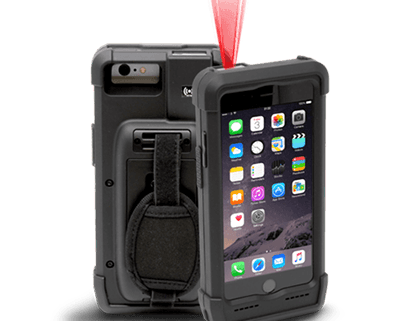 LINEA PRO® 7 PLUS SCANNERS
Linea Pro 7 Plus is a compact, industrial grade (IP55), high-performance barcode scanner, designed to operate with iPhone 7 Plus & iPhone 8 Plus and compatible with iPhone 6/6s Plus. This enterprise grade scanner features a premium-grade Intermec Scan Engine delivering fast accurate scans of 1D and 2D Barcodes and OCR capabilities. The hot-swappable battery feature will keep your enterprise mobilized around the clock.
The new enhanced industrial-grade design, high performance scan engines, replaceable battery, additional scan button and USB Type-C connection make Linea Pro 7 the most advanced and powerful iOS barcode scanner and the perfect tracking solution.
The following features are also included: Bluetooth and RFID.
Linea Pro, bespoke made for iOS devices including Apple's latest smartphone and tablet versions, has provided total mobility to barcode scanning and card reading, as well as automatic and real-time data gathering and communication thanks to its wireless Bluetooth and RFID capabilities (depending on the model). Its ergonomic design and light weight make it the ideal POS/reader solution wherever manoeuvrability is necessary. Its high-technology features and efficiency make it suitable for use in multiple fields. In addition, there are several accessories that enhance Linea Pro 7's portability and performance, including extra battery and charging stations. All the scanners are compatible with over 100 fully-functioning iOS Apps that can be found on the Apple Store, and a SDK is available to allow the development and integration of new and existing Apps.


Display 100 Products per page