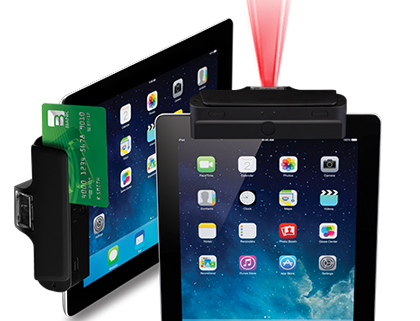 INFINEA TAB® 4 for iPad® 4
Designed for iPad 4, Infinite Peripherals Infinea Tab 4 converts this iOS mobile device into a powerful point-of-sale and scanning solution, as it is a combination of barcode scanner and magnetic card reader. It connects through Apple's Lightning Connector.
The Infinea Tab 4 is available with two types of barcode scanner: 1D laser scan engine which reads 1D barcodes, and 2D image sensor which reads both 1D and 2D barcodes (including QR codes). Besides the scan engine option, one or more of the following capabilities are also available: Bluetooth, RFID reader, Encrypted Head (as opposed to non-encrypted) and PCI compliance (as set out by the Payment Card Industry to ensure secure transactions). Some versions are only card readers without scanner. All of these model combinations are available on Lineapro.store, please browse the categories below to find the one that best suits your needs. Additionally, there are several accessories available that enhance the Infinea range, including rugged cases, hand grips and mounts.
All the scanners are compatible with over 100 fully-functioning iOS Apps that can be found on the Apple Store, and a SDK is available to allow the development and integration of new and existing Apps.
BUILD YOUR INFINEA TAB 4 in 2 simple steps:
1. Choose the Barcode type





Display 100 Products per page